Today we want to break down the AM and PM skincare routines. There isn't the one and the only skincare routine. Only that which suits YOUR skin the best. We will introduce the KEY elements for your possible routine.  The most essential parts are face  CLEANSING and MOISTURIZING. Add other steps if you feel  comfortable with them.
– AM skincare routine –

Step 1: Water
In the morning we highly recommend rinsing your face with room temperature water only and using no cleanser. Your should have been taking care of your skin the night before (at your PM skincare routine), so you don't want to strip your skin of those oils as it may leave it dryer after all.
Step 2: Serums
Use them, if you want to address your skin problems. You could work on brightening your skin with vitamin C, for example.
Step 3: Moisturizers
To plump your skin cells, boost hydration, draw water from the environment.
Step 4: Oils
Oils are personal preference. They lock your moisturizer in and some oils have active properties too. It is essential to choose the right one which won't be too heavy and make your skin break.
Step 5: Sunscreens
Do not leave your home without  your sunscreen! This is crucial part of the skin care, as sun DOES real damage to your skin.
– PM skincare routine –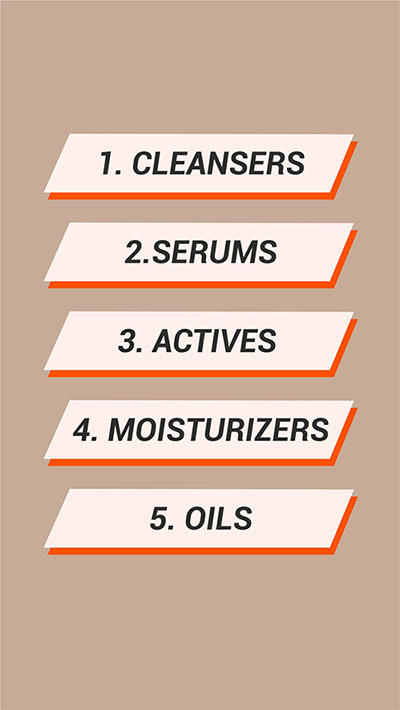 The evening and night time is perfect for your skin regeneration and healing, so you can use more ACTIVE and HEAVIER products to make sure they  help your skin overnight.
Step 1: Cleansers
We are double cleansing advocates. Ideally you should wash your face with oil-based cleanser and after that with a water-based cleanser. The first cleanser will break down any makeup, remove dirt and excess oils from the day and clean your skin. The second cleanser will address your particular skin type or concern and should have ingredients to hydrate, smooth or exfoliate and treat acne.
Step 2: Serums
Serums are optional. If you have any kind of skin problem, you want to address them with serums as they are packed with active ingredients and treat specific goals.
Step 3: Actives
You have to be an experienced consumer to use actives alone on your skin care routine. For example, you can use vitamin C for hyperpigmentation,  renewal of the skin cells or benzoyl peroxid to helps fight acne.
Step 4: Moisturizers
We have 3 types of moisturizers:
Humectants – works by pulling water molecules to the surface of your skin.
Emollients – filling in the empty space between these desquamating cells, as well as help to flatten curled edges of cells.
Occlusives – forming a protective coating on the surface of your skin. Usually oily or waxy.
Step 5: Oils
They are not moisturizers! Though you can boosts  the effectiveness of your moisturizer as oils seal the hydration in your skin. Oils always have to be the last step  as you want to go from the lightest product to the most heavier one.
Photo credit: Pinterest