Our second series about skincare don'ts were inspired by Dr. Shereen Idriss, dermatologist from U.S. You don't need to use 1000 steps skincare routine to have glowing complexion. We advocate using simple and science backed techniques. The list of ineffective or unnecessary products may be bigger, but ATM reconsider using these cosmetic products: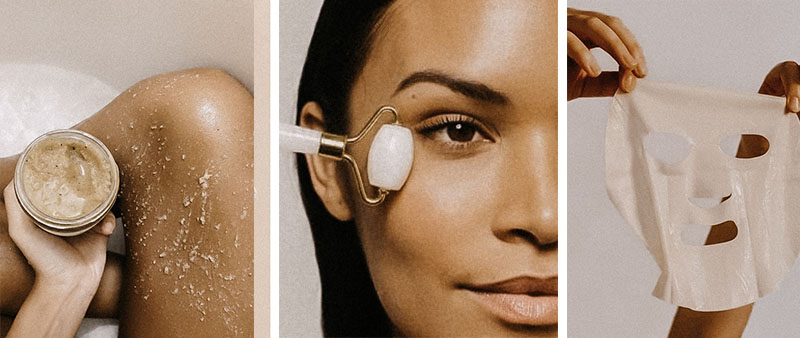 #1 YOU DON'T NEED A TONER
The truth is – it does not provide anything that a serum or a moisturizer can't do. Especially, when you look into the ingredients list.
Many toners claim having pores tightening effect, but that's not the case. Pores are permanently 'open'; they need to be in order to provide an exchange of oil/sebum with the surface of the skin. Toners do not close or tighten pores, unfortunately.
Toners where invented because cleansers used to leave a soapy film on your skin that had to be removed. Today cleansers have evolved so there is no need for this addition skincare step.
#2 AVOID SCRUBS AT ALL COSTS
Scrubs are very abrasive. They tend to leave micro-tiers in your skin which can lead to inflammation in the long term. It worsens the signs of ageing and worsens the quality of your skin.
The same goes for rollers with actual needles in them! Don't do these procedures at home!
Oh, dry brushing is not a good option too, although it gains more and more popularity. You may think about it as a lymphatic system massage and any massage with light-medium pressure can help with lymphatic circulation, but it causes micro-tiers too. So if you have sensitive or dryer skin, dry brushing may cause irritation or over-drying.
#3 DO YOU REALLY HAVE TO USE A SHEET MASK?
Think about all the waste. Do you really have to use this non biodegradable material while masking for 5-10 min? A lot of sheet masks are made using synthetic fibres, instead of biodegradable materials like cotton. And it comes wrapped in plastic too. And to be honest, they are too expensive for everyday use.
The sheet mask won't do much more than regular, well-formulated products. If you want to mask, we suggest applying a classic mask with your fingertips.
#4 DON'T USE any type ROLLERS FOR DARK UNDER EYES.
It simply doesn't work. A lot of factors can cause dark under eyes, but roller won't treat any of them.  Although jade has a reputation as a healing stone, there's no scientific evidence that it can calm rashes or signs of age. The only way a jade roller might deliver benefits in this area would be indirectly, as part of a soothing ritual to reduce stress and improve well-being.
Rollers can help when your face is puffy or when you have had a wild night before. It helps with lymphatic system and blood circulation. Jade rollers are about as effective as any form of facial massage when done correctly.
But it won't:
– get your pores smaller;
– lighten your under eyes;
– brighten your complection;
– improve elasticity.