We have ritual in our office. It starts in the autumn, when the cold starts to creep in. We take coffee first thing in the morning, and then after some work is done we make ginger tea! An excellent immune-boosting tea with less than five ingredients.
Let's dive into the benefits of ginger:
A 2012 studyTrusted Source from Columbia University involving 10 overweight men found that drinking hot ginger tea (in this case, ginger powder dissolved in hot water) increased their feelings of fullness and reduced hunger.
A review of the researchTrusted Source suggests that ginger may be effective in managing obesity. However, most of the experiments have been rat studies, which suggest that ginger may help prevent obesity and obesity-related complications.
Ginger may help improve blood sugar control, reduce A1C, insulin, and triglycerides among people with type 2 diabetes, some researchTrusted Source suggests.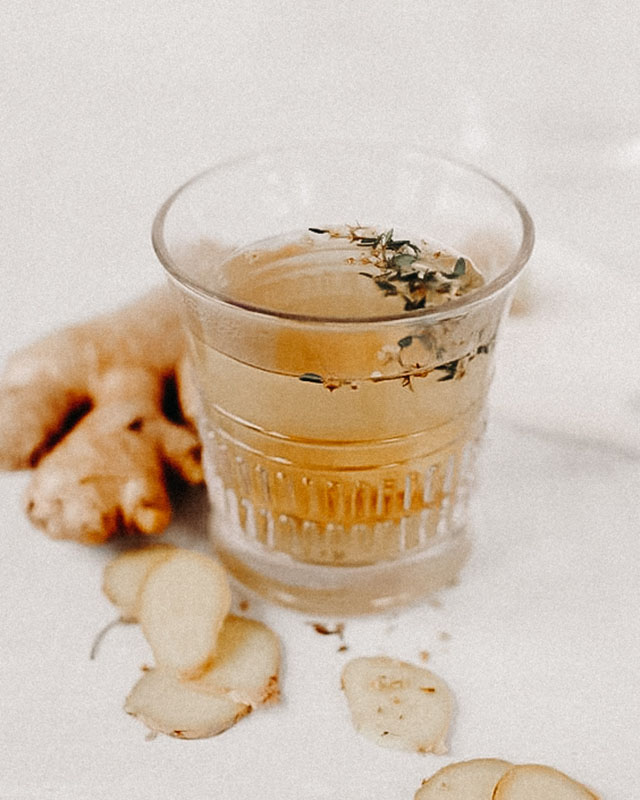 You will need:
Fresh Ginger Root
Lemon, sliced
Honey, or another natural sweetener (optional)
Water
Peel the ginger. Thinly slice it and put in the cup. Pour the hot water in. Do not boil the water and it will break down the nutrients and mineral that makes this tea so special.
You can add honey and slice of lemon for your taste!
Variations!
Ginger-Cinnamon Tea
For more warming spice, simply add a cinnamon stick to your tea before bringing the hot water in.
Ginger-Turmeric Tea
Turmeric offers additional anti-inflammatory benefits, plus a fun orangey hue and extra-spicy, intriguing flavor. Treat fresh turmeric the same way that you treat fresh ginger—cut it into thin slices, and add it to your ginger and water mixture.
Ginger-Mint Tea
Fresh mint lends a cooling component, which helps balance the warmth of fresh ginger. Add a few sprigs of fresh mint to your mixture before pouring the water in.
Ginger-Thyme Tea
Wonderful anti-inflammatory drink. You can use dried thyme. Add it to your mixture of ginger.
Photo credit: @helloglowblog